Bus Fleet News
January 2022
last update 20th January



Many thanks to all who have contributed news and photos to the website. Without this the site would not be possible.
---
Latest News
***Arriva: Second Omnilink joins the fleet. Service changes in January. ***Hulleys: Several Darts join the fleet. ***Midland Classic: Christmas bus for 2021. ***Trent: More services suspended

---
Here you will find all the latest bus fleet news for many bus operators in and around the Derbyshire area. If you have anything to report please contact me by clicking here
.
---
---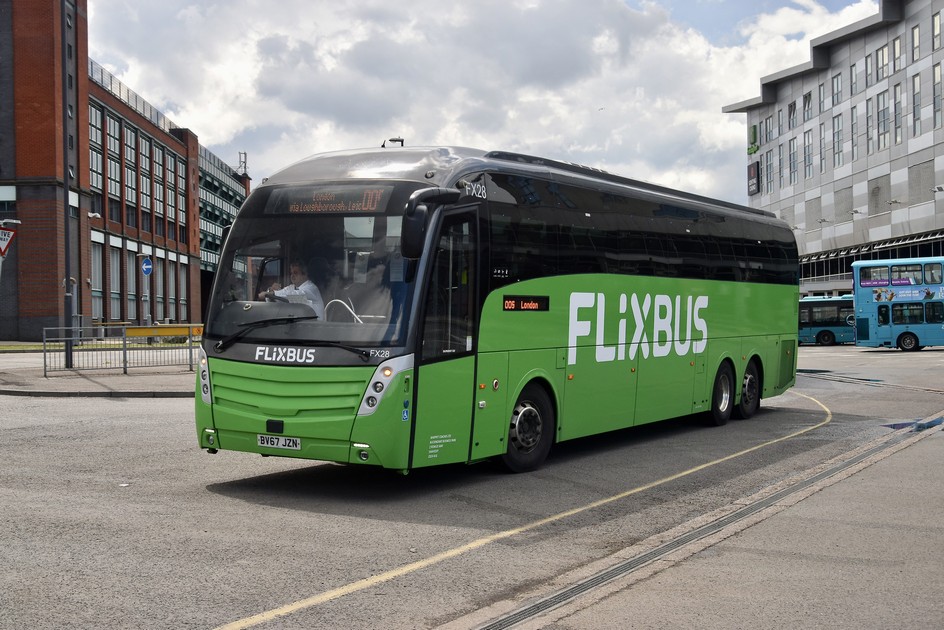 Whippets now operate Flixbus services that pass through Derby, often using former National Express Levantes. (BV67 JZN) is seen here in Derby bus station.
(C)Geoff Girling
---
Andrews of Tideswell
NEWS
-
-

---
---
Arriva Derby
NEWS
20th January 2022
VDL 3744 has now been repainted into the new blue livery.

Gemini 4204 and VDL 3746 are now back in use after being repainted.

17th January 2022
Omnilinks 3511/2 are here on loan whilst buses are repainted.

Gemini 4204 is set to be painted soon, along with VDL 3746.

Former North West "click" branded Sprinter minibus 1024 has been renumbered 1124 (RX18 LNR) and is in use at Derby of staff shuttles. Mercedes minibus 1003 in new Arriva livery (BF67 WGG) is also now based at Derby.

Saturday service on routes 5/5a was reduced to every 30 minutes (from every 20) last August, despite the council only publishing the timetables on their website recently, and also advising this change was effective from Janauary 2022. Minor changes have been made to route 4 and P&R which will also see the return of a Saturday service on the F1 from this weekend.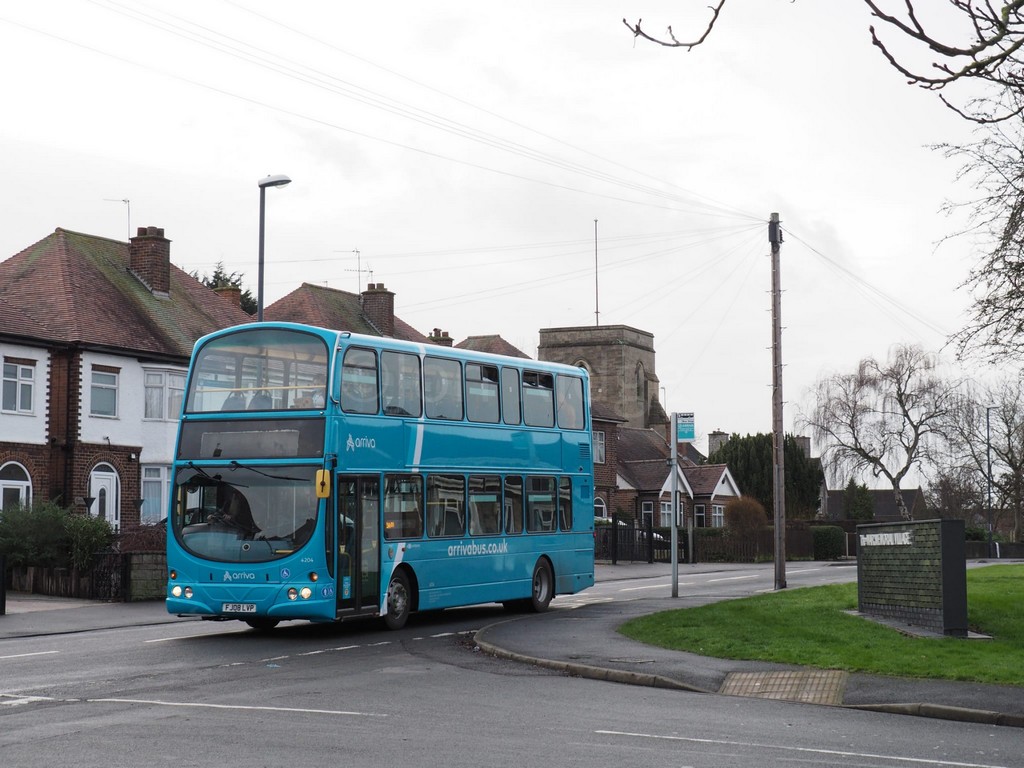 4204 is seen on its first day in service (11th January 2022) after repaint into new arriva blue. Seen here working a 2a service to Derby bus station, on Sinfin Avenue, Shelton Lock.
(C) Jon Ridge



12th November 2021
Omnilink 3511 is now in use at Derby. This worked here from new for a short time (when number 3811).





---
---
CT4N
NEWS
-
---
---
Derby minibus




27th May 2020 Derby Minibus has now closed following the passing of David Mansfield on 5th May 2020. Starting in 1995 the company operated 7 vehicles.


---
DW Coaches, Clay Cross




16th September 2021 A recent addition here is former Lawsons Volvo Alexander PS (L623 TDY).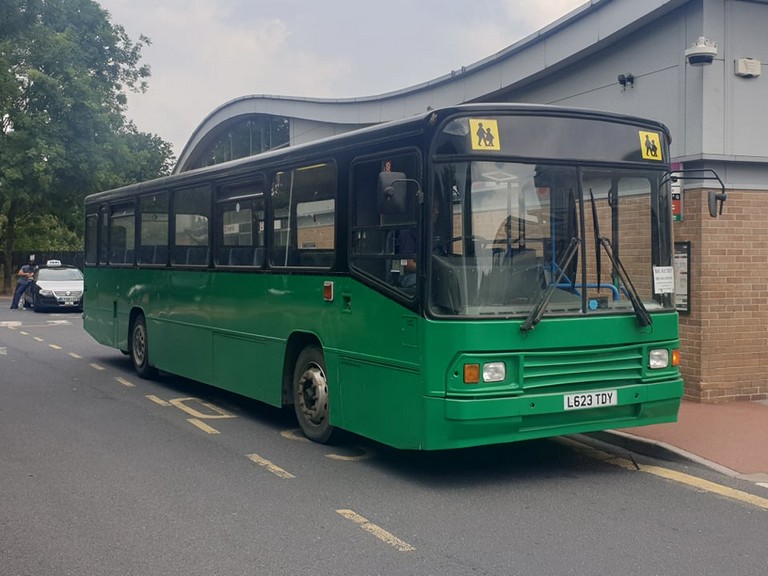 Volvo Alexander PS (L623 TDY).
(C) Chris Gaskin


23rd September 2020 New additions to the fleet here are ex Stagecoach London Trident ALX 400 (LX03 BZC) and ex Arriva London Volvo B7 ALX 400 (LJ05 BJU).


---
---
G&J Holmes

NEWS
9th September 2017

---
---
Glovers of Ashbourne

NEWS

15th September 2021.

The latest addition to the fleet is former Parks of Hamilton tri axle Plaxton Panther (SA13 YPH).

26th January 2021.

A new arrival here later last year was Volvo B12M (W V02 EUP), which has gained registration (AIG 4549), Ex Panther Travel, Parkeston. It was (AB02 PAN) for a while at Panther Travel.

The Volvo B10M that was (AIG 4549) has reverted back to (W898 RRU) before being withdrawn and possibly sold?

23rd September 2020.

Former Burnley and Pendle Volvo B10BLE/Wright Renown (Y162 HRN) is here. Last operated by Square Peg, Leeds.

---
---
Harpurs Coaches



28th September 2021

Temsa (YJ13 GUE) has been destroyed by fire.

16th September 2021 2 former Belle Vue (new to London General) Volvo Geminis are here and in use in yellow livery:
(LX05 FBB/D).

Quite a few fleet changes lately, will try to cover the rest soon.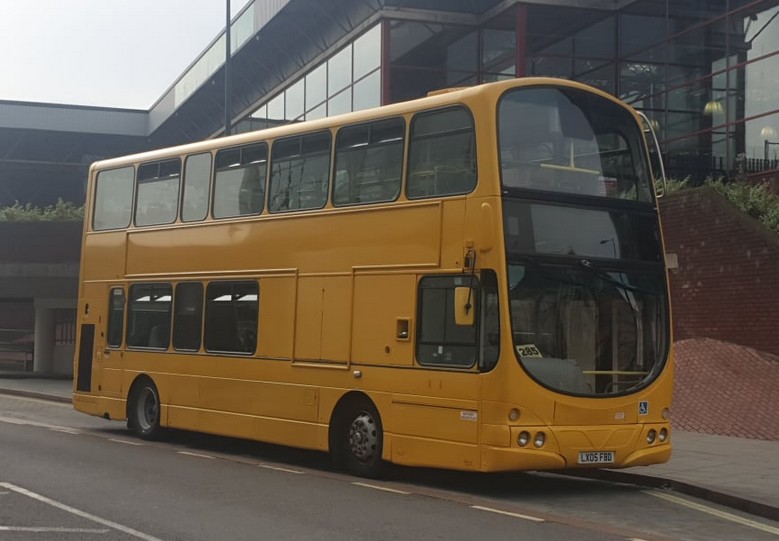 Former Belle Vue Gemini (LX05 FBD)is seen here in Derby.
(C) Chris Gaskin



28th July 2021 Grey Dennis Trident / Plaxton President bodied (SGZ 3536) is a fleet addition within last few months. Believe this was new to London General as (PN03 UMA), before passing to Norse where is was used on park and ride in Norwich. It was later with Belle Vue, Manchester where it was painted yellow, before being painted grey (and re registered) by an unknown subsequent owner?

Disposals late 2020/early 2021 reported to include:
Olympian (S831 DGX),
Volvo coaches (N644 AHP),
(CN55 MUE) - now (ESU 282) , and (FJ55 XBA) now (DSU 130) - both are now in the Shetlands with Andrew Morrison, Whiteness trading as Andrews coaches.
(NX53 UBC),
LDV minibus (PJ53 OEO).

16th July 2021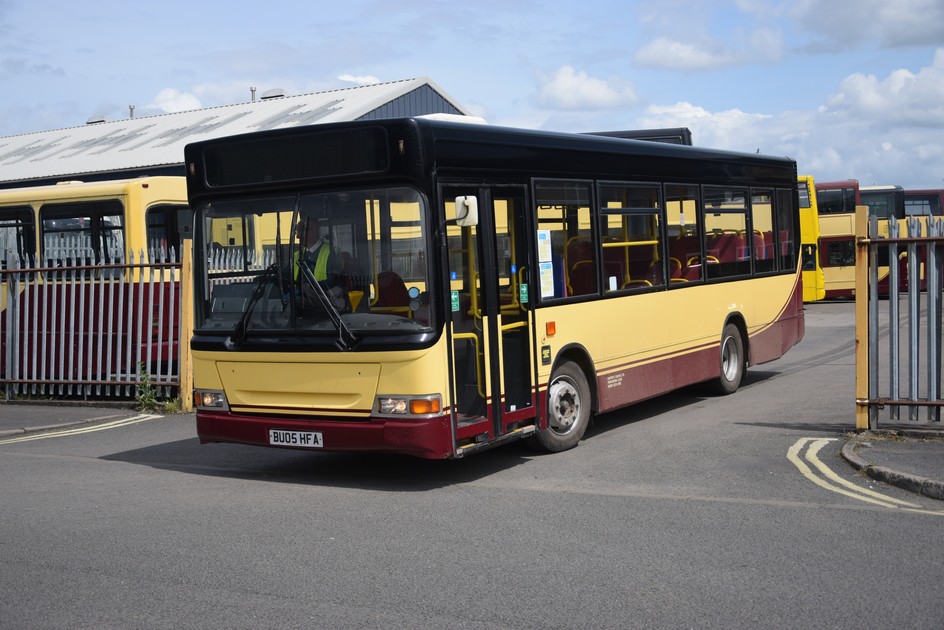 MPD (BU05 HFA) is now in fleet livery.
(C) Geoff Girling

17th May 2021 Volvo Gemini (LX53 AZU) is here and in fleet livery. New to London General is was previously with Xelabus.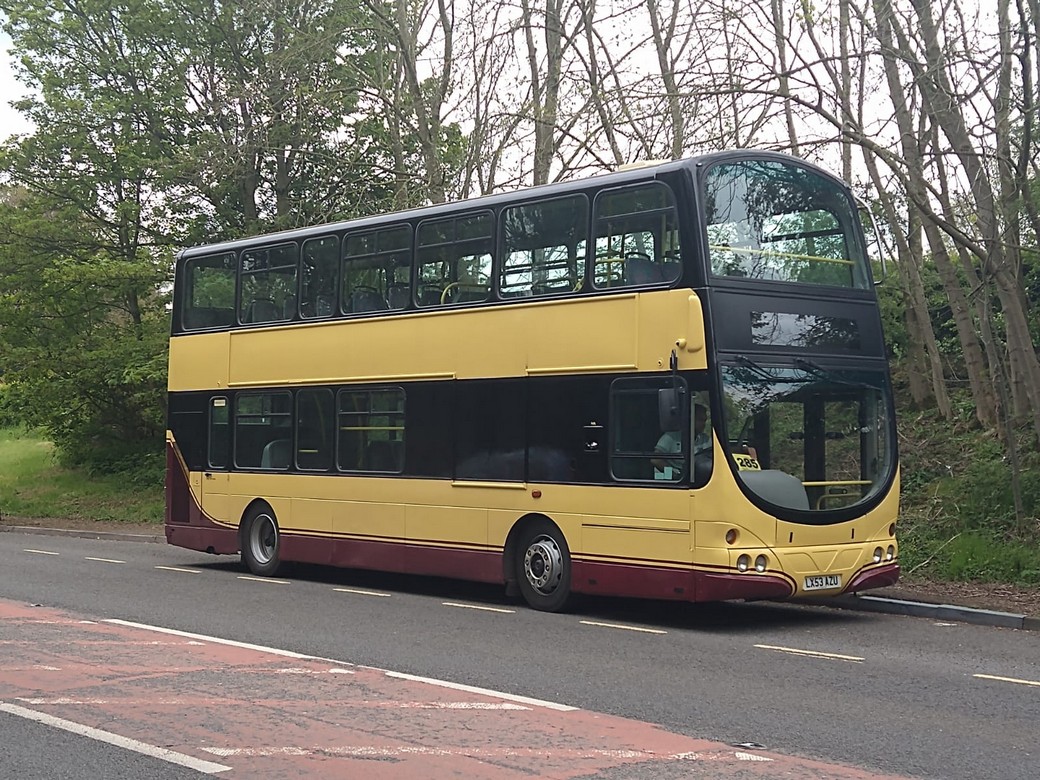 Volvo Gemini (LX53 AZU) on the A6 near Allestree.
(C) Adrian Healey
31st March 2021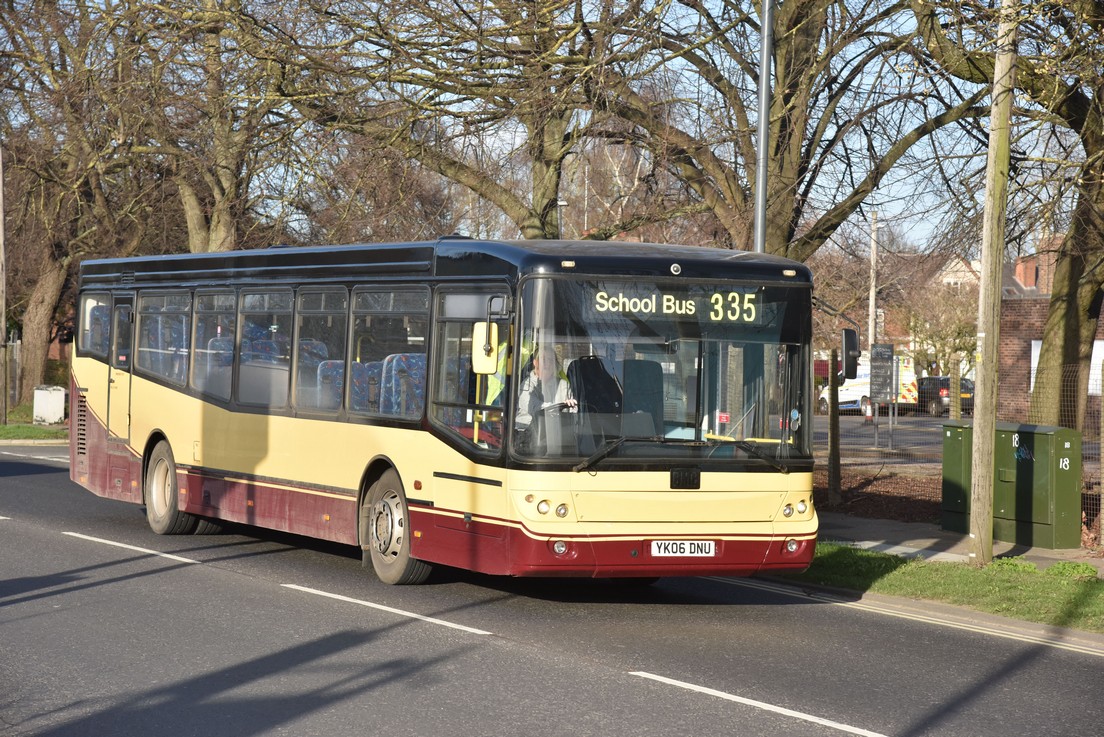 (YK06 DNU) now carries fleet livery. Seen here on Ascot Drive.
(C) Rob Hadfield

7th March 2021 A new arrival here is MPD (BU05 HFA), ex Abellio.

17th February 2021 New additions to the fleet reported here are DAF Geminis (LJ05 BHP/V) and Volvo Gemini (LF52 UTJ).


---
---
Hawkes Coaches

NEWS


1st October 2021
A second Volvo B7/ALX 400 reported here is (KP51 VZW) - ex First Cornwall 32070 (again in dark blue Bath Unibus base livery).

30th September 2021
A new arrival here in all over dark blue livery is Volvo B7/ALX 400 (KP51 WCX). New to First Leicester, it has most recently seen use with First in Cornwall (fleet no 32096). Prior to that it was with First in Bath branded for the Unibus services,in the livery it still carries.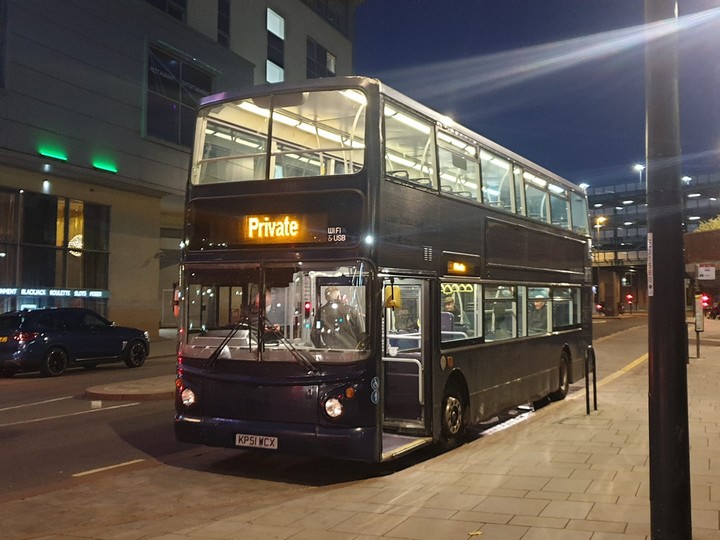 (KP51 WCX) is seen here in Derby, outside the Eagle Centre Market, on a football service.
(C) Chris Gaskin



7th March
Two new additions to the fleet are Autosan Eagle coaches (BX06 NZV/U).

Condor (E10 MDC) reported to have been sold for preservation, whilst the second example is withdrawn.


---
High Peak

News
17th February 2021
Versa (T23 TYB) reported to now be with D&G, repainted in their livery.

26th January 2021
A number of services are reduced or suspended from 27th January 2021. The 2 hourly Sunday timetable will be in use every day on the transpeak service. Hulleys are covering route 113 (Belper to Ashbourne) and the 394, whilst Andrews are covering the 442 (Ashbourne to Buxton).

23rd September 2020
A fairly new addition to the fleet, in new centrebus livery, is Optare Solo SR 296 (KX14 FHT). This was used in Malta when new.

Scanias 690 (high Peak) and 691/2 (skyline) remain in use here. Others from the batch have moved elsewhere in the centrebus group, including 693 which has had a repaint and in use on the busway in Luton.


---
---
Hulleys of Baslow

NEWS + SIGHTINGS
9th December 2021
Hulleys will operate the 55 Chesterfield to Alfreton from next month. The current Stagecoach service is to be cancelled.

The new number 5 Dart (NK04 NPN) is being prepped for repaint and MOT.

Former Stagecoach Dart (WA56 OJN), which arived recently, will not enter service, but be used for spares then scrapped.

16th November 2021
Former number 2, Gemini (BX55 XNT) has been fitted with a replacement engine, and now in use with Hunters Coaches, Leeds. It was painted not so long ago, so still looks smart in Hulleys livery with cream Hunters fleet names.

12th November 2021
Snake route X57 is to be withdrawn from 9th January 2022.

Volvo/Wright 5, 14 and 25 have all been sold back to Connexions.

White Dart (WA56 FKO) is now in use as the new number 14.

Another Stagecoach Dart 34607 (NK04 NPN) has arrived in Stagecoach livery, and is expected to be the new number 5.

Dart (PX05 EKW) is the new 24.
Volvo Wrights (BK13 NXT) is the new number 8.

19th October 2021
Dart 24 (PX05 EKW) now carries fleet livery and is in use.

Wright Volvo 8 (BK13 NZT) is now in fleet livery and should be in use later this week.

7th October 2021
A second former Stagecoach Dart has arrived (PX05 EKW), still in stagecoach livery.

E200 17 (MX11 CZW) now carries the Express Motors livery.

Volvo / Wright 5 (MX55 FHH) and 25 (MX55 UAA) are advertised for sale.

All white former First/Go ahead Manchester Volvo / Wright (MX06 VPT) is currently on loan. This has also seen use with MP Travel.


---
---
Johnson Bros / Redferns

NEWS & SIGHTINGS


8th August 2020 A recent addition is (YN55 NHZ), ex London Sovereign as SLE40626 still in London red livery. Omnidekka (YN56 FFU) has recently been repainted into it's base silver livery and will soon receive West Nottinghamshire College branding. (YN56 FFV) is also due to get the same treatment soon, currently in Brighton & Hove livery.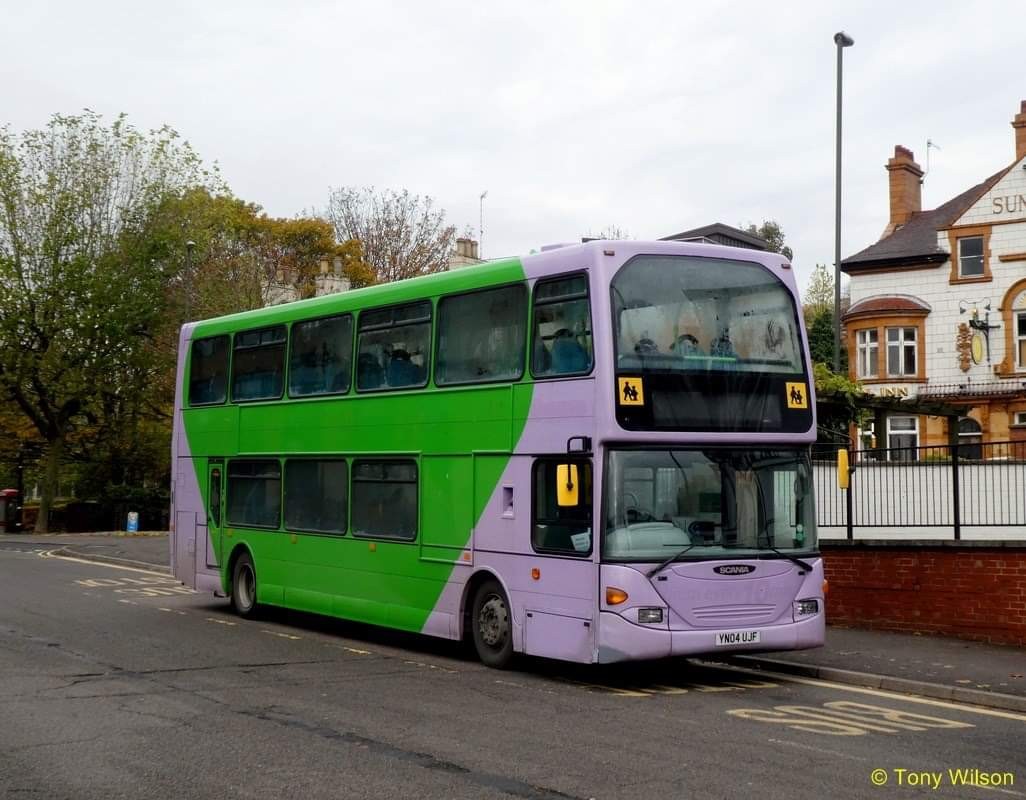 Former Nottingham City Transport (YN04 UJF) is now in operation with Redferns and is seen here in Chesterfield.
(C) Tony Wilson
---
---
Linburg
21st May 2021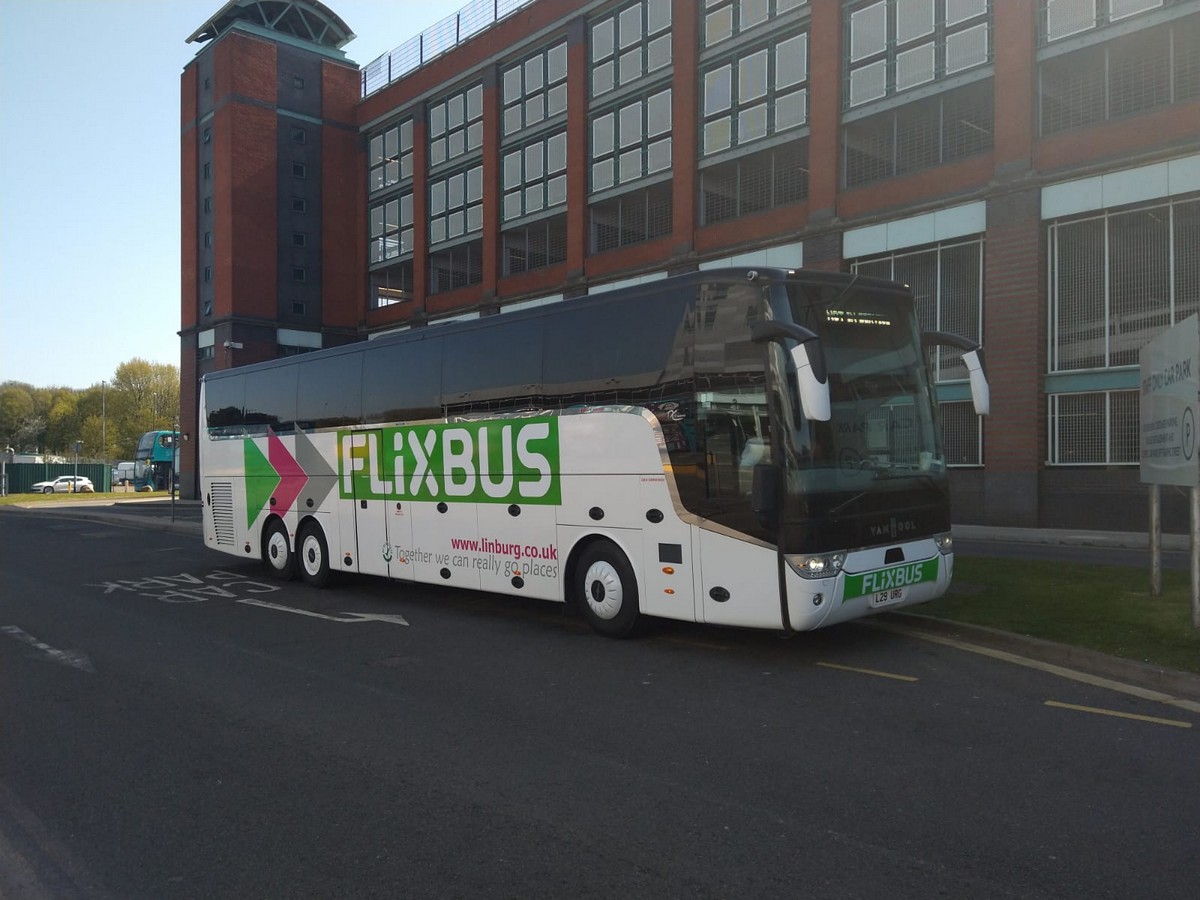 Van Hool (L29 URG) now carries joint Flixbus / Linburg branding for use on the expanding Flixbus network of routes. Whippets are another operator that now pass through Derby on these services, often using former National Express Levantes.
(C)Adrian Healey
---
---
Littles Travel

NEWS + SIGHTINGS

30th November 2021 2 Volvo B7/Plaxton presidents reported here are (LX54 GZT/V). New to Go Ahead London, they were laterly with Go North East.


---
---
Midland Classic
NEWS
31st December 2021

The last of the six short Scania Irizar i3s, number 23, has entered service. VDL SB200 Pulsar number 70 (YJ08 EFW) has been reregistered as (JP54 MCL). Former Diamond 32122.

E200 32 (YX09 FMP) and Volvo B7/President 101 have both been withdrawn.

9th December 2021

A new addition to the fleet is Versa 41 (NK09 FVE). Ex Go North East.

Scania Irizar i3 number 26 is this years Christmas bus.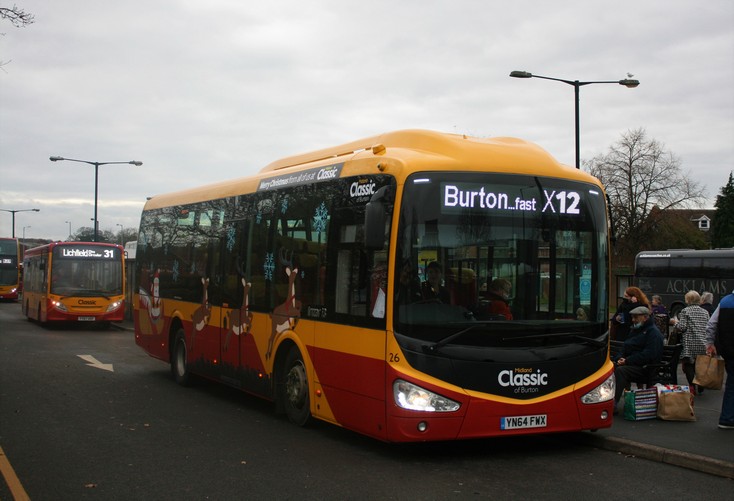 26 is this years Christmas bus, seen here in Lichfield.
(C)Mark Kinson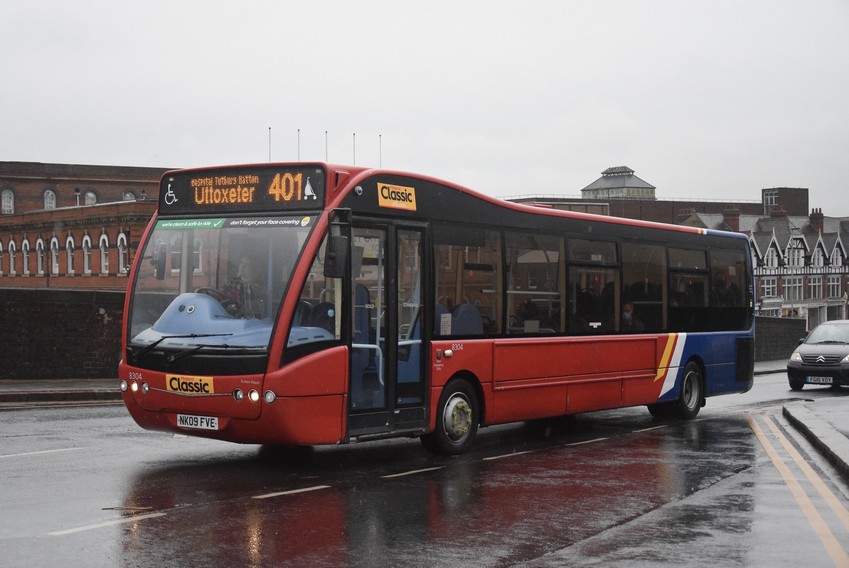 Former Go NE Optare Versa, now fleet number 41, is seen here passing Burton Railway Station.
(C)Geoffrey Girling



30th November 2021

Former E400s 91 and 93 are reported to be in Cornwall with Roselyn of Par.

A new addition to the fleet is Wright VDL (YJ08 EFW). This was new to Fishwicks, and more recently with Diamond bus. It carries the new style fleet livery.

18th October 2021

Irizar i3s 27 and 28 are now in use.

E400 92 reported to be sold to Completely Coaches, Norwich.


---
---
Nottingham buses

17th January 2022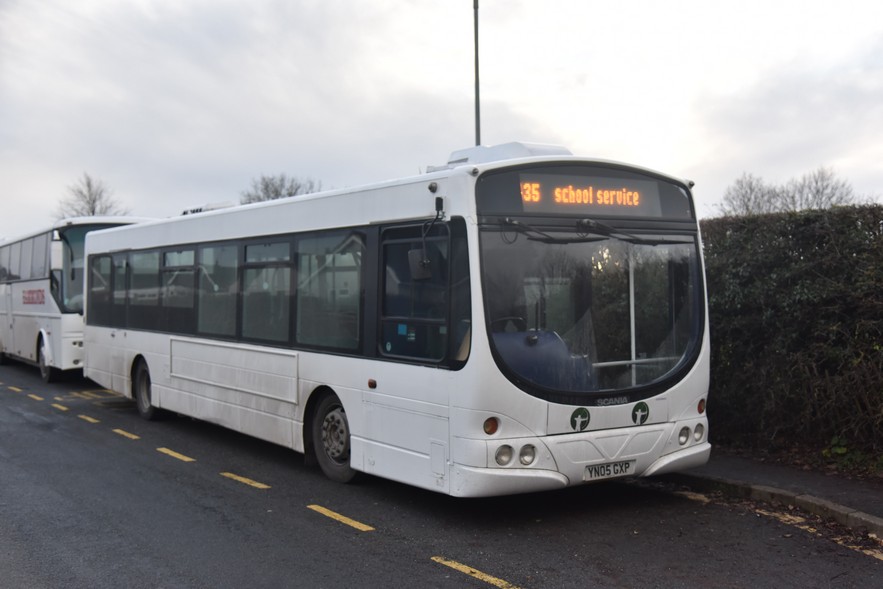 New to Reading buses, and last with Midland Classic of Burton, Scania/Wright Solar (YN05 GXP) is now with Nottingham Coaches. Seen at South Wolds School, Keyworth.
(C) Rob Hadfield
---
---
---
Paul S Winsons Loughborough
NEWS
16th August 2020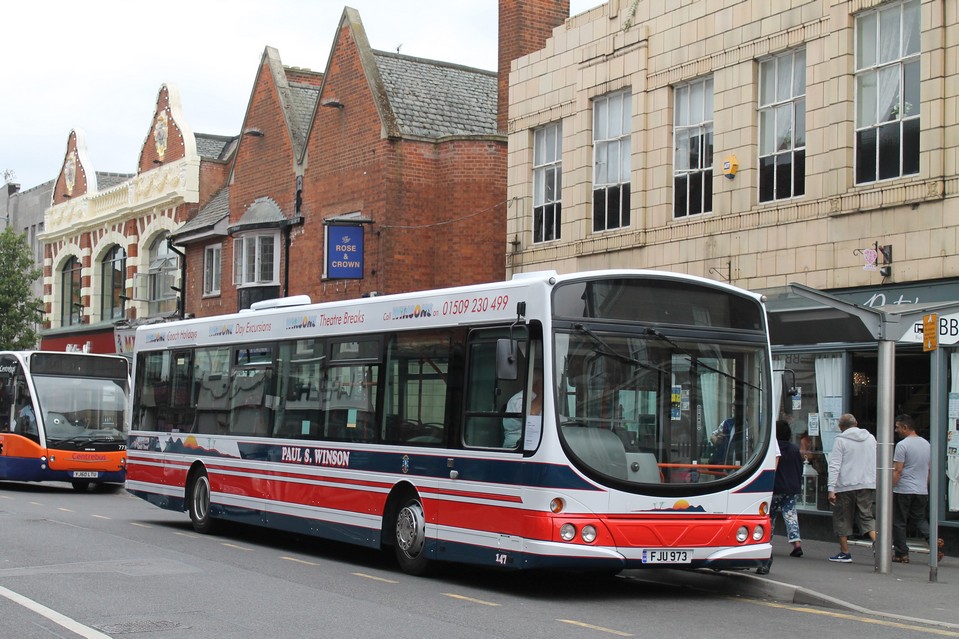 Volvo (FJU 973) seen here in Loughborough. New to Anglian,Beccles as (AU06 BPK), it was recently acquired from Blackpool Transport.
(C) DBD
---
Skills, Nottingham
NEWS
18th October 2021
6 new Tourismos:

(BV71 HZA) - 2 axle - Skills, (different green), previously (BF21 EOT)

(BV71 HZB) - 2 axle - Skills, (different green), previously (BF21 EOT)

(BV71 HZC) - 2 axle - Silverdale,

(BV71 HZD) - 3 axle - Silverdale,

() - ,

() - .

The 6 former Lothian B9 Geminis here are:
907 (SN08 BXX),
909 (SN08 BXZ)
910 (SN08 BYA),
913 (SN08 BYD),
914 (SN08 BYF),
915 (SN08 BYG),

5 Volvo ALX400 are expected here from Ireland.
???
???

8 more new Tourismo coaches are expected to join the fleet in 2022.



---
---
TM Travel
NEWS:
See Wellglade section.
---
---
---
The Wellglade group
trent barton, kinchbus, notts+derby and T M Travel.

NEWS


20th January 2022
H1 and The Two are both having their frequencies reduced from Monday, from every 10 minutes down to every 15.

The 9 former Lothian Geminis now with notts+derby are:

22 (SN08 BYP) - Lothian livery.
23 (SN08 BYU) - Lothian livery.
24 (SN08 BYV) - notts+derby livery.
25 (SN09 CTU) - Lothian livery.
26 (SN09 CTZ) - Lothian livery.
27 (SN09 CUA) - Lothian livery.
28 (SN09 CUK) - notts+derby livery.
29 (SN09 CUU) - Lothian livery.
30 (SN09 CVA) - notts+derby livery.



The remaining Volvo B7TL/Plaxton Presidents have now left the fleet:

33 (W291 PFS) - Sold to Herberts Travel
34 (W292 PFS) - scrap, Looms, Spondon, Derby 1/22.
35 (W293 PFS) - Sold to Herberts Travel
37 (W295 PFS) - scrap, Looms, Spondon, Derby 1/22.
38 (W296 PFS) - scrap, Looms, Spondon, Derby 1/22.
39 (X683 RDA) - moved to TM Travel.

Coach 52 (FB51 JBO), 53 (FC02 LAE) and Solo 442 (R26 BUS) former (FE02 KCZ) have also left the notts and derby fleet for scrap (1/22) (Looms, Spondon?).

Former sixes Scanias update:

683 (FJ55 ABO) Ladywood School, Kirk Hallam (static non PSV).
684 (FJ55 ABV) now (789 FAY) - connexions, Harrogate.
685 (FJ55 BZM) remains in use with trent barton at Sutton.
686 (FJ55 BZN) to Looms, Spondon for scrap 11/21.
687 (FJ55 BZO) now (JSU 721) - connexions, Harrogate.
688 (FJ55 BZP) now (ESU 912) - connexions, Harrogate.
689 (FJ55 BZR) ??
690 (FJ55 BZS) now (K200 CXB) - connexions, Harrogate.
691 (FJ55 BZT) now (J800 CXB) - connexions, Harrogate.
692 (FJ55 BZU) ??

12th January 2022
Scanias 599 and 632 have moved from notts and derby to T M Travel.

Volvo Plaxton President 39 has also moved from notts and derby to TM Travel.

9th December 2021
Further official temporary cuts will be made to Trent services from Monday 13th December 2021, mainly due to a driver shortage:
1A - Suspended.
27 - Service halved to just hourly.
It is difficult to see how this will improve things as these journies are already being cancelled, aswell as many others. Ideally you would think more services would be cut sooner to maintain reliablity.

Notts and Derby service 71/72 will now continue from 29th December, with a few changes. Reduced to run every other hour, 72 will not service Parks Estate (served by existing 138). From the same date the 59 will also be reduced to run every other hour.

7th December 2021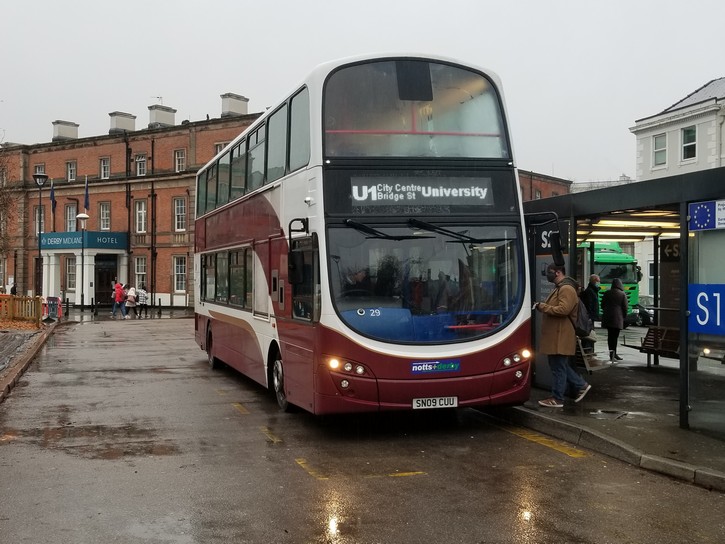 Former Lothian Gemini (SN09 CUU), now fleet number 29 in the notts and derby fleet. It is seen here outside Derby Railway Station on university service U1.
(C)Andrew Cowell

24th November 2021
30 now back in fleet livery. Coaches 53 and 54 and Solo 442 have been withdrawn.

12th November 2021
Kinchbus have had the pay rise offer accepted and avoided strike action. Services are seeing further cuts from next week in responmse to the ongoing driver shortages.

Spondon Flyer is to be suspended from 14th November to help alleviate the impact of the driver shortage which is mainly impacting operations from Derby. The Royal service will also be reduced in frequency to every 20 minutes, and will only serve the main stop at the hospital. Whilst it is good that they are now addressing the issue, it is quite poor to entirely remove a service at relatively short notice. They could quite easily reduce the frequency on a couple of other routes to free up drivers with little impact to their customers.

A number of trent barton and kinchbus services are currently being cancelled at short notice due to a driver shortage, which is affecting many bus operators in the uk. The cancellations, which have become an issue over recent months, are being announced daily on their facebook and twitter pages. These affect a range of services, even ones which only operate hourly. Kinchbus is currently operating to a reduced emergency timetable introduced during the summer, to add stability to the service offered, however further journies are still being cancelled. Trent Barton continue to still try to operate the full timetable, rather than a reduced one, basically rendering the whole network unreliable due to a varied daily list of cancellations. NCT are accepting Kinch tickets between Loughborough and Nottingham.

Centros 764/5 now carry the new notts+derby livery.

Another Lothian Gemini to arrive at Notts and Derby is (SN08 BYP). This is expected to be fleet number 22. The 9 expected here are:

Solo 455 is now in Looms along with former sixes Scanias 661 and 686.

21st October 2021
The first of 9 former Lothian Volvo Geminis has arrived at Meadow Rd for the Notts+Derby fleet as:
(SN09 CUA) - Lothian livery.


---
Yourbus, Nottingham
NEWS
YOURBUS ceased trading on Friday 4th october 2019
For a list of former vehicles, where they moved on to, and one or two photos see previous news pages. Last Months News




---
---
Last Months News

News Index Page
---