Bus Fleet News
December 2018
last update 18th Janauary
---
Merry Christmas and a Happy New Year
---
Many thanks to all who have contributed news and photos to the website. Without this the site would not be possible.
---
Latest News
---
Here you will find all the latest bus fleet news for many bus operators in and around the Derbyshire area. If you have anything to report please contact me by clicking here.
---
---
NEWS
9th January 2018
A new addition to the fleet is Trident (LX51 FJA) from Hulleys, Baslow 2/1/18.


---
---
NEWS
18th January 2018
The first two Streetlites here are 3329/30 (SM68 EPE/F).

3rd December 2018
19 new Streetlites are expected to join the Derby fleet this month to replace the Optare Solos.
VDL 3763 has joined the Derby fleet.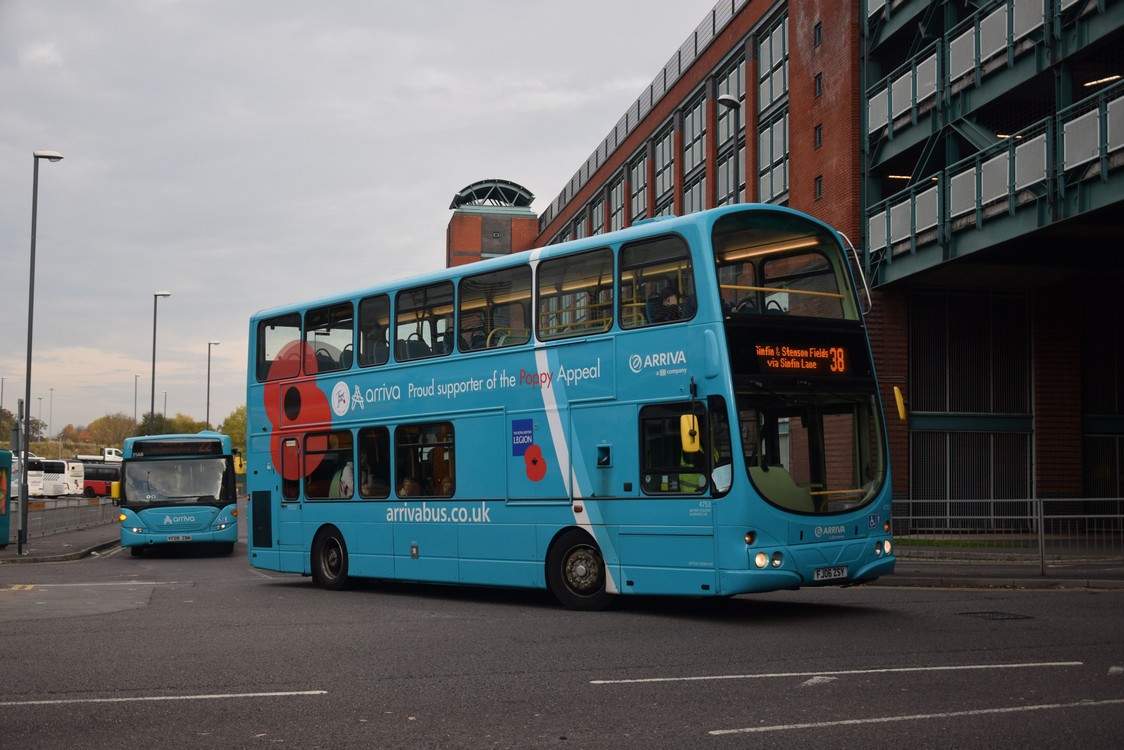 Arriva Derby had 4753 on loan from Leicester, for 1 day only, earlier this week. The budget wouldn't stretch to buy and apply a few more vinyls to a Derby bus. All side destinations have also shown "LEST WE FORGET" for the last week or so.
(C) Geoff Girling

15th September 2018
Enviro 400 MMC 4536 to 4544 are now based at Derby in Nottingham Hopper bus livery for the University of Nottingham contract. Mercedes minibus 1001 is also based at Derby for this and carries the same livery.

2704 was back in use at Derby at the end of August.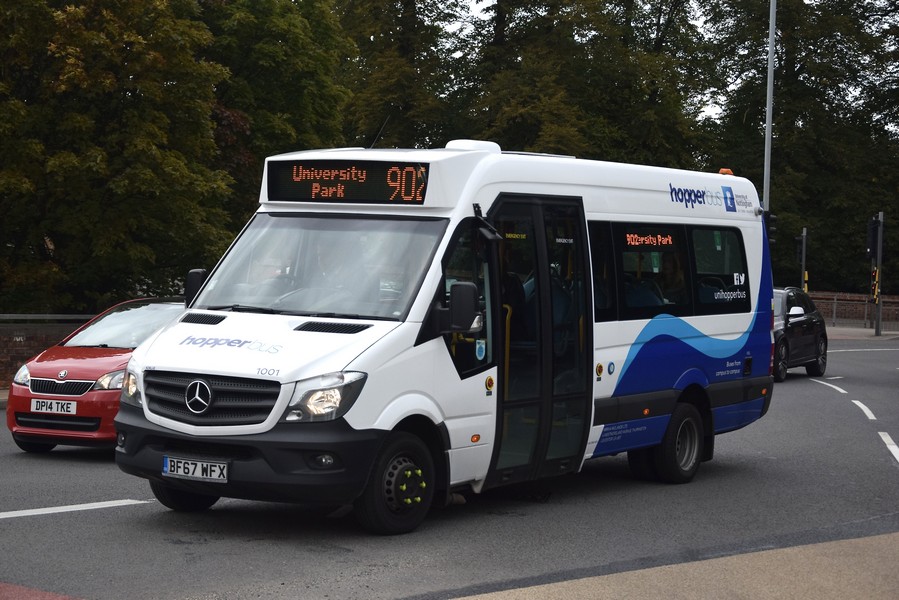 Arriva Mercedes minibus 1001 has also been painted for Hopper bus work at Nottingham.
(C) Geoff Girling



10th August 2018
A number of E400 MMCs are now in use/painted for the Nottingham University Hopper Bus contract. A Mercedes minibus (67 plate) is also used.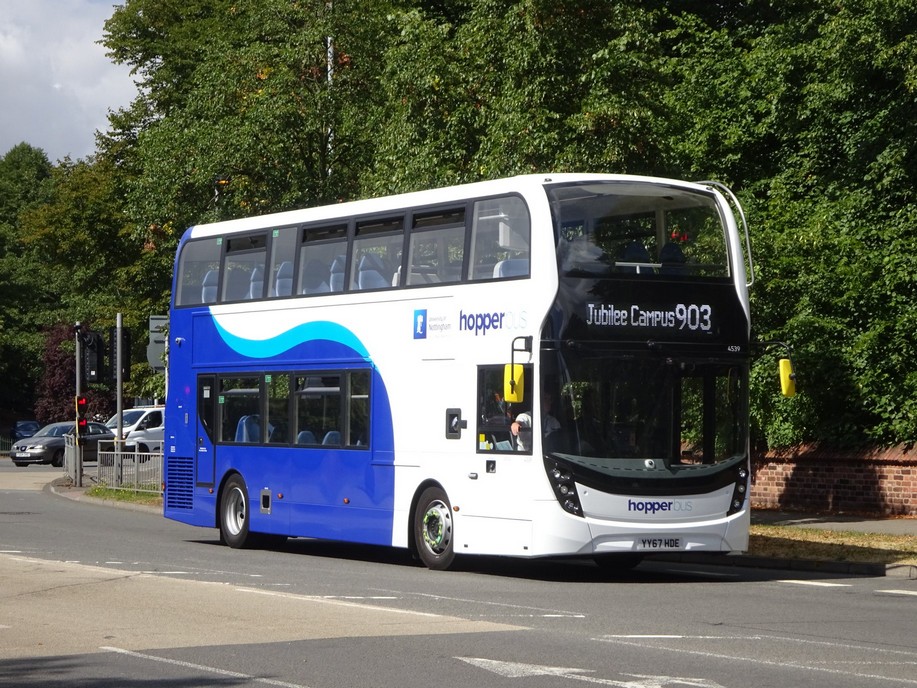 4539 passes QMC in Nottingham.
(C) Chris Gaskin
---
---
NEWS
-
---
---
NEWS
3rd October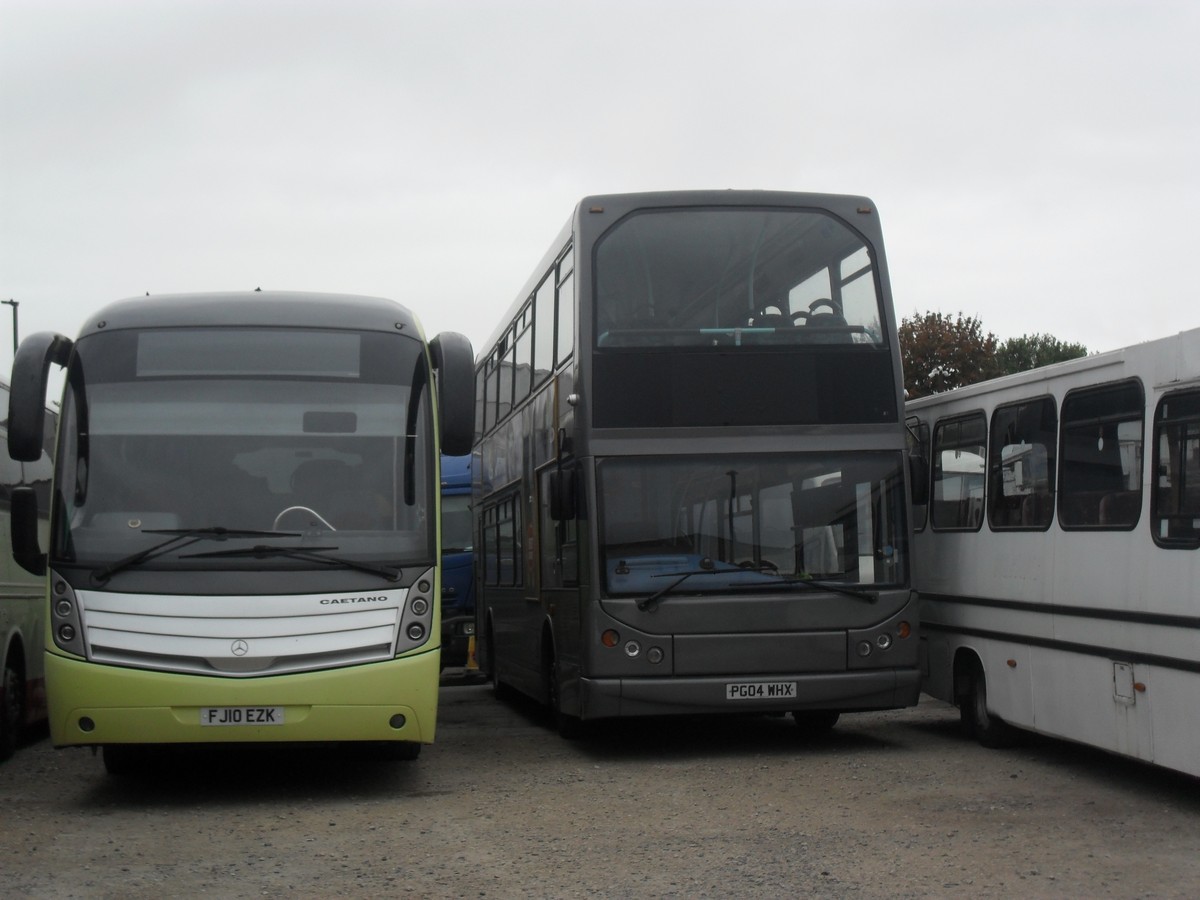 Derby minibus have recently acquired (PG04 WHX).
(C) Adrian Healey
---
---
G&J Holmes


NEWS
9th September 2017
Yje last two Solos have been sold. (LJ60 LTY) is now with Stephensons, Easingwold and (MX59 AVT) is now with Llew Jones, Llanrwst.

---
---
Glovers of Ashbourne

NEWS
---
---
Harpurs Coaches


NEWS

8th November 2018
A new addition here is B12M (B204 COX) from Cox of Belper.

5th May 2018
The final Volvo/Alexander ALX 400 here has been registered (X945 DDA).

15th January 2018
Volvo/Alexander ALX 400 (X811 DDA), the former Dublin AV112 is now in use here.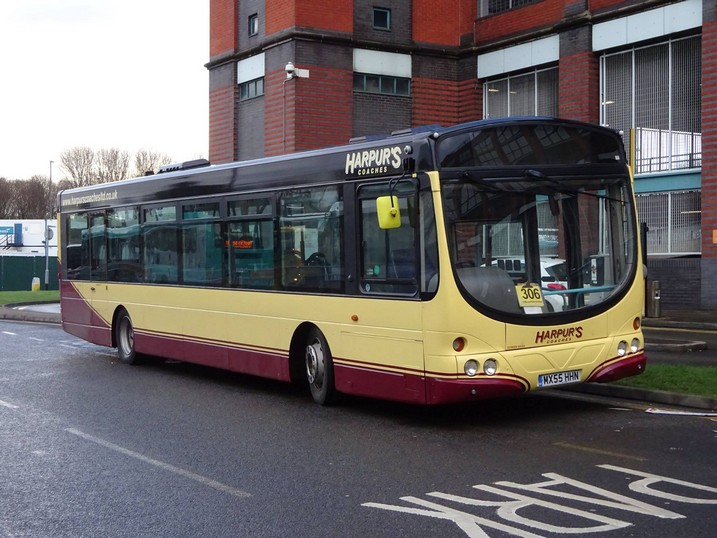 Volvo / Wright (MX55 HHN) in new style livery.
(C) Chris Gaskin
---
---
Hawkes Coaches


NEWS 10th April 2018
A second former Mass Dennis Condor is here. (F330 UJN).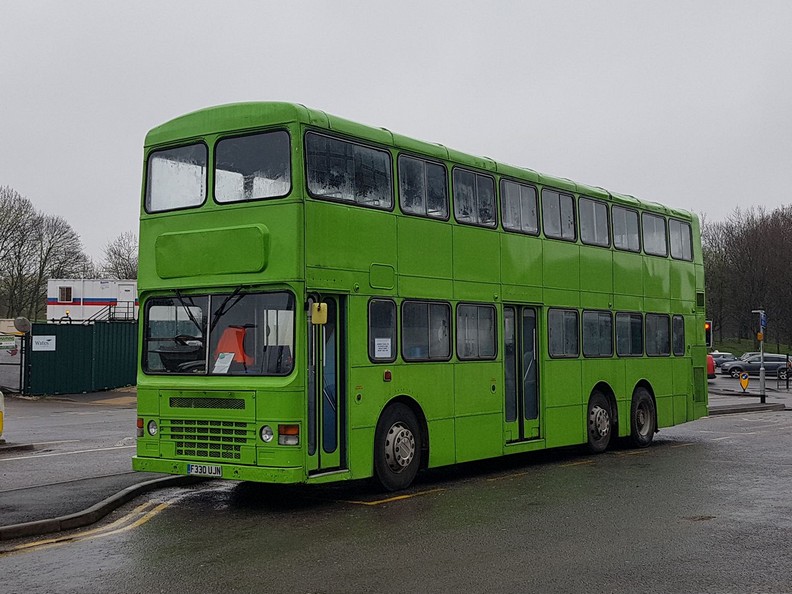 Dennis Condor (F330UJN) in Derby.
(C) Chris Gaskin
---
High Peak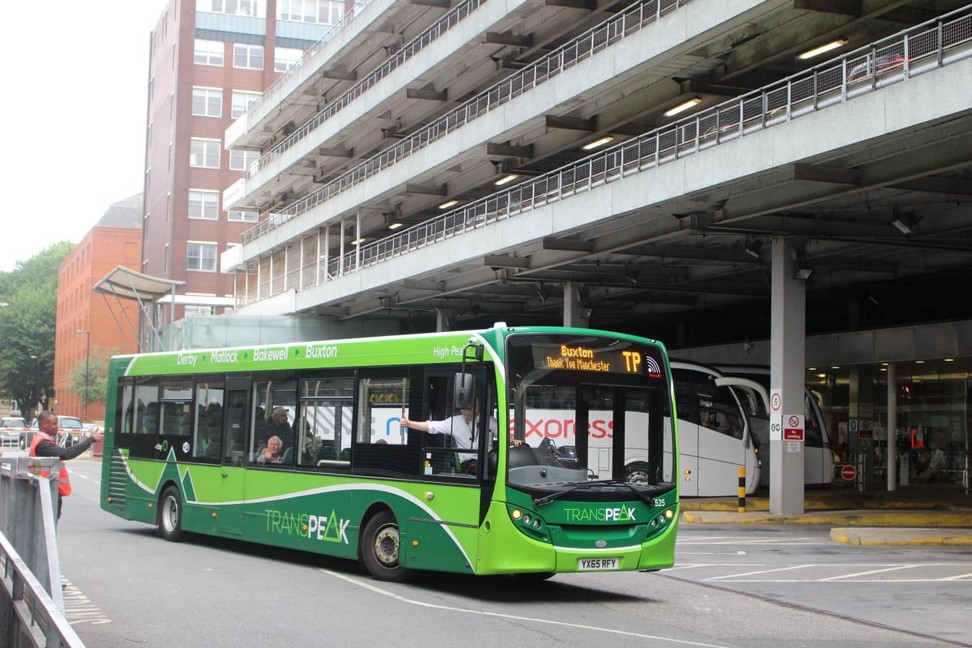 E200 525 departs Manchester for the last time on Saturday 21st July 2018.
(C) Dan Stone
---
---
Hulleys of Baslow

NEWS + SIGHTINGS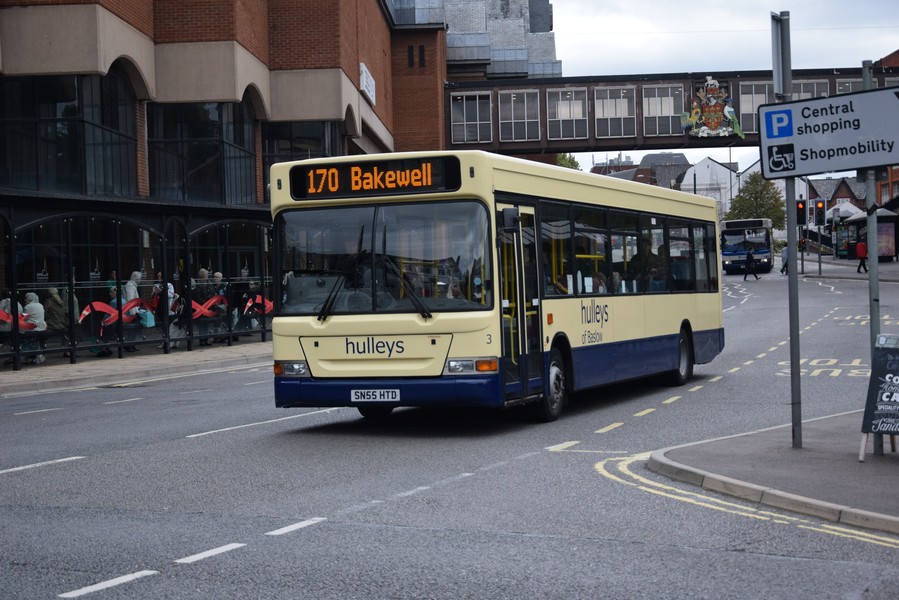 Former Yellow Buses Dart (SN55 HTD) has been repainted into fleet livery. It is seen here in Chesterfield.
(C) G Girling

15th September 2018
A new addition to the fleet is former Wolvehampton University Optare Tempo (YJ60 LSL) and has been numbered 19. It was acquired through Stafford Bus Centre entering service on September 10th already painted in fleet livery minus fleet names.

The former Bournemouth Dart (SN55 HTD) is away for repaint.

ADL Enviro 200/MCV (WW58 BLU) is now here and is set to become the new number 3. This is still in stagecoach livery but is set to be repainted, once other faults have been fixed, before entering service at some point in the future.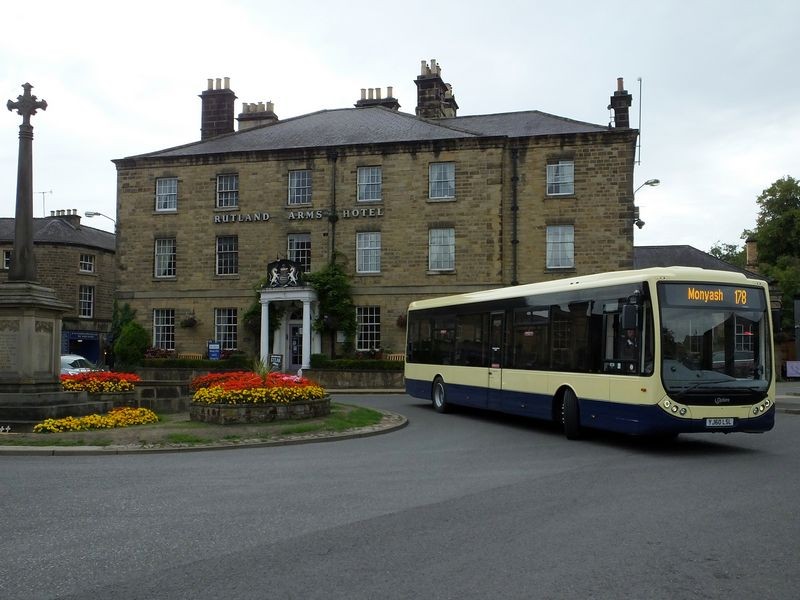 Optare Tempo 19 is seen here in Bakewell.
(C) Ian Moorcroft



10th August 2018
Dart MCV Evolution 19 (PL06 TFZ) has been withdrawn after an RTA on 6th July. It is set to be scrapped.

Dart 22 (EK51 XXE) has also been withdrawn, following engine faliure. The engine from 19 may be used to repair this at some stage.

A new addition to the fleet, numbered 22, is MPD (HW54 BUV). It has arrived in Hulleys livery from Ensign. It was new to Sothern Vectis, but was more recently with Emsworth and District.

Scania Irizar 8 (SCZ 7109) is currently withdrawn (last used in March) but remains in store, along with withdrawn Centro number 3.


---
---
Johnson Bros / Redferns

NEWS & SIGHTINGS
26th February 2017

---
---
Linburg

NEWS + SIGHTINGS

---
---
Littles Travel

NEWS + SIGHTINGS
5th May
Solo (W409 YAL) has been re-registered as (AGZ 9365). Solo (W301 YAL) to (AGZ 9364).


---
---
Midland Classic


NEWS

4th December 2018
New additions to the fleet are E400s 64 (SN11 BMV), and 67 (SN11 BND), both of which carry fleet livery. 64 entered service today. 214 (SN11 BMU) is set to be renumbered as 63 following repaint. More from the same batch are also likely join the fleet soon.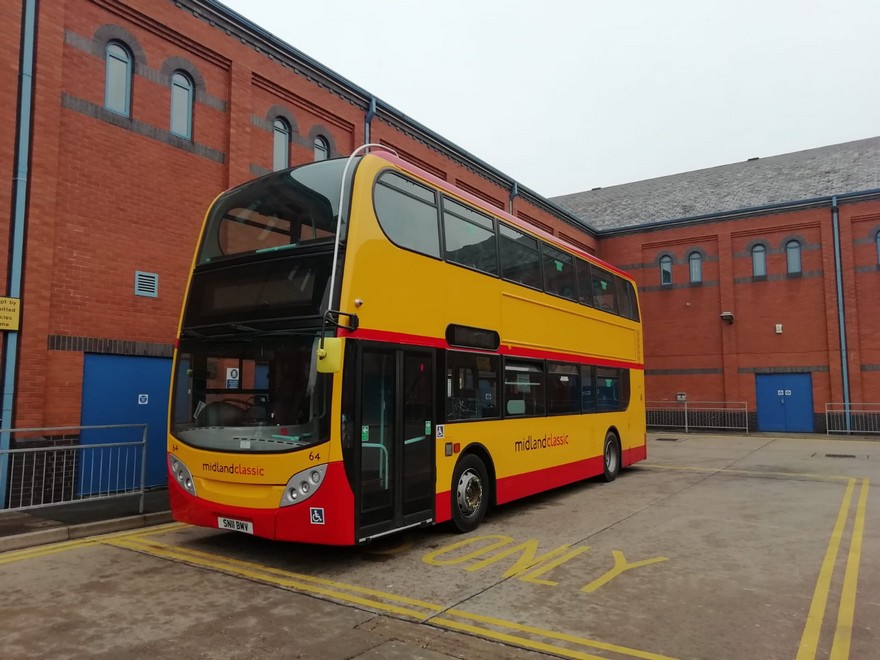 A new addition to the fleet is former Tower Transit ADL E400 64 (SN11 BMV).
(C) J Curtis



Former Lothian Dennis Trident, Plaxton President 216 (SK52 OGV) is in use here still in Lothian livery. Extra vehicles are needed at present to work the seasonal Boots contracts. 215 (PJ02 RBZ) also remains in use.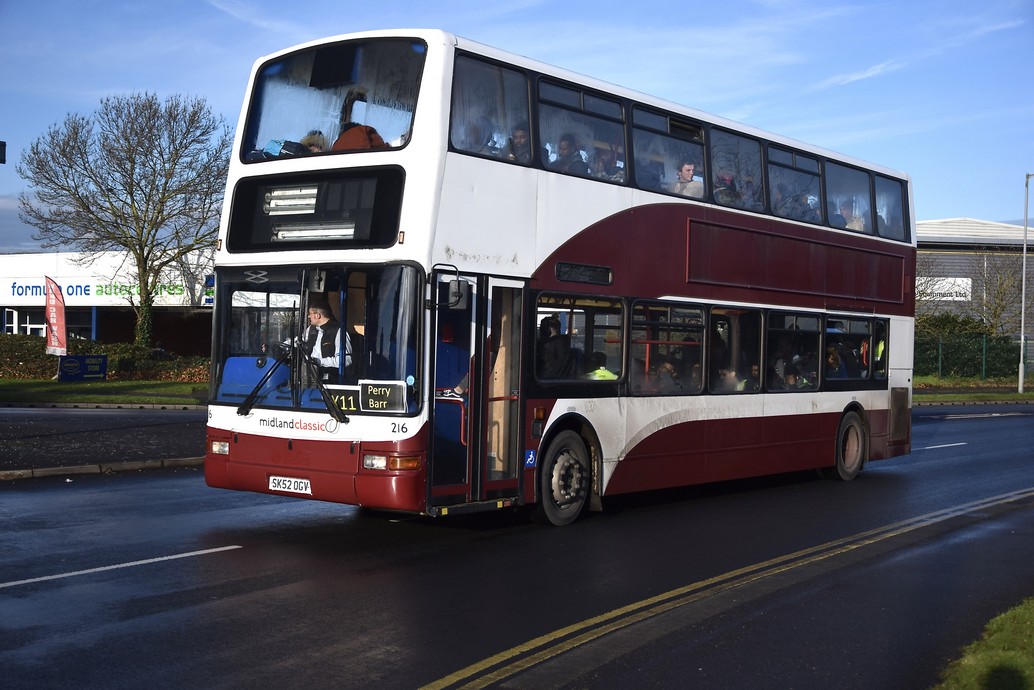 Former Lothian Trident (SK52 OGV), numbered 216 in the Midland Classic fleet, is seen here on a Boots service.
(C) G Girling



8th November 2018
Volvo/Plaxton President (PJ02 RBZ) is on loan here covering for DAF Gemini 47 which is currently off the road following an RTA.

Former reading (pink) 61 and 62 have now been repainted into fleet livery.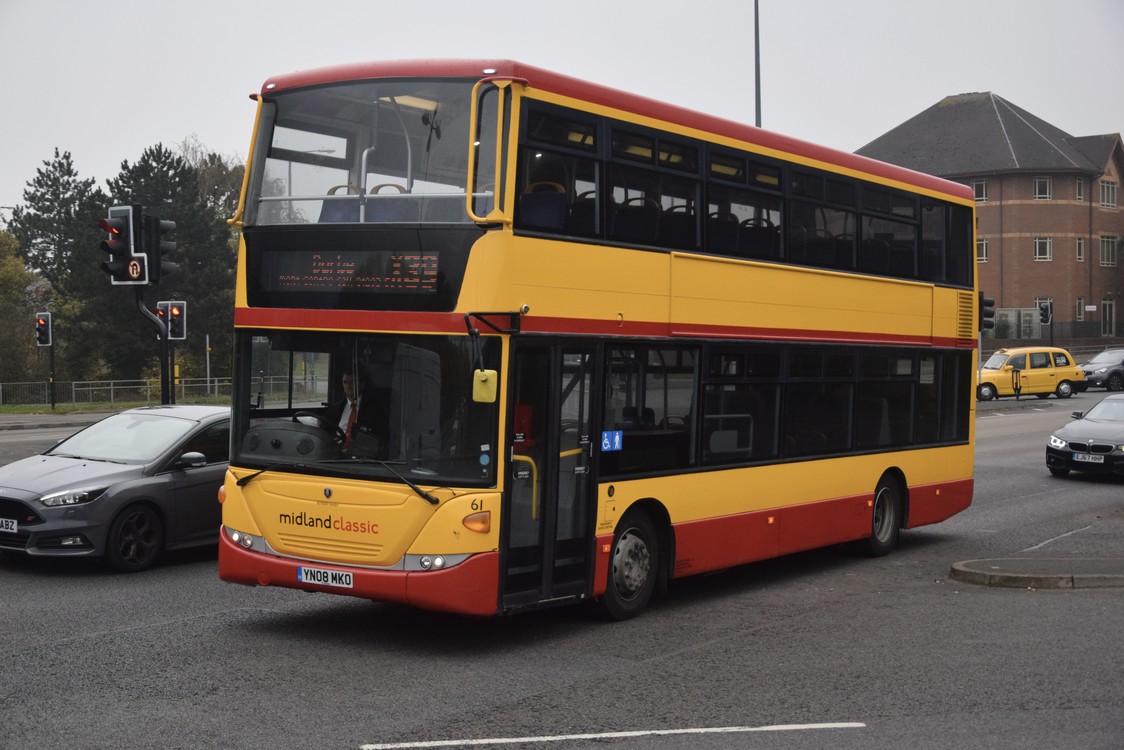 61 now carries fleet livery.
(C) G Girling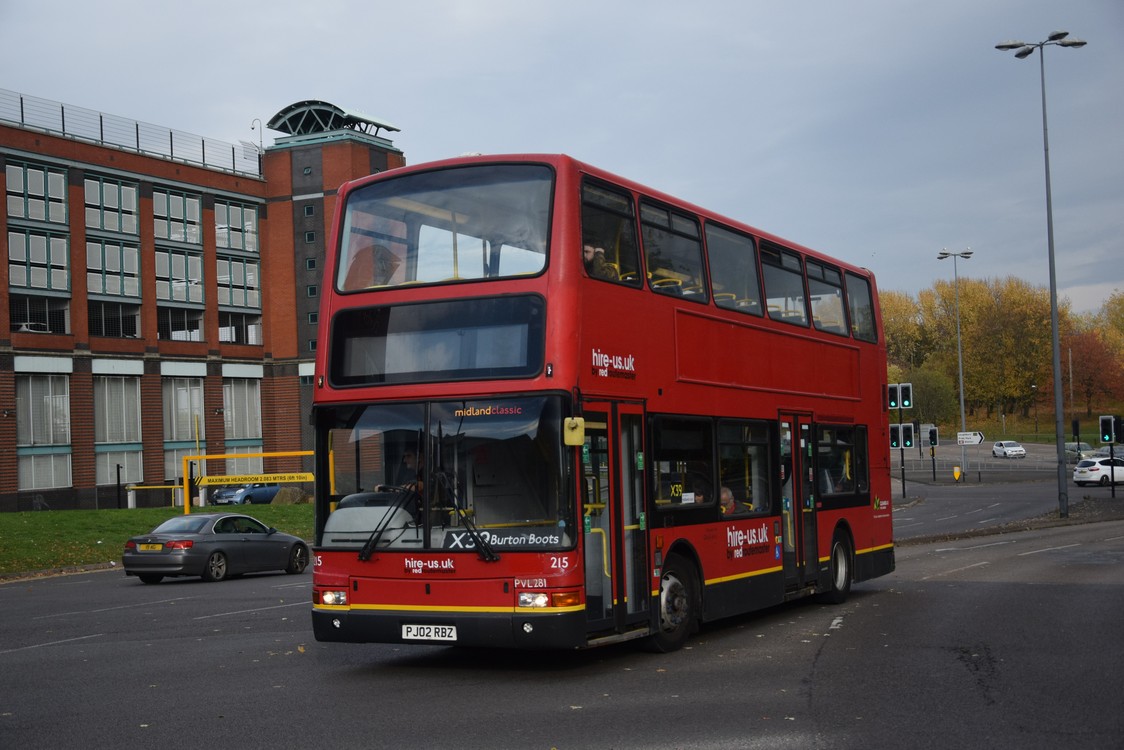 215 in Derby on the X39.
(C) G Girling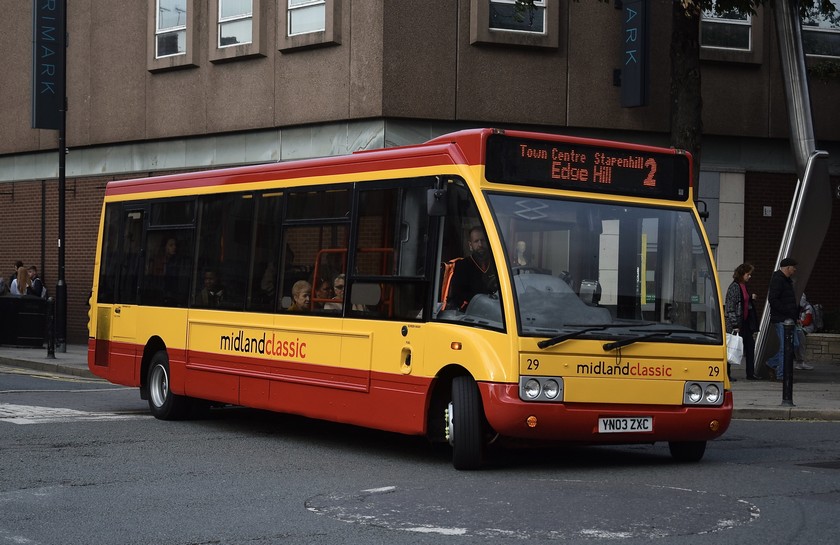 Solo 29 now carries fleet livery.
(C) G Girling

15th September 2018
E400, 214 (SN11 BMU), is here on loan for around 2 weeks.

Former Centrebus (and Paul James) Solo (YN03 ZXC) is here but not yet on the road.

The last Commander in use is 106, although this is expected to be withdrawn once the MOT expires.

Olympian 96 should be back in use soon.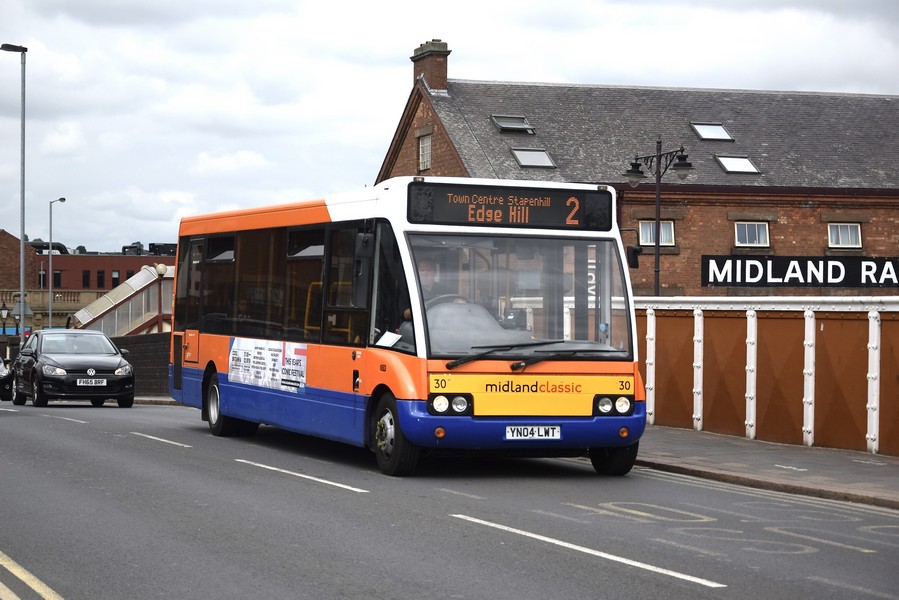 Solo 30.
(C) Geoff Girling



13th August 2018
A new addition to the fleet is former Centrebus Optare Solo 30 (YN04 LWT). This carries Centrebus livery with a yellow front panel and entered service on 13th August. Similar (YN04 LWU) was here but did not see use and is not part of the fleet.

5th May 2018
74 has been repainted.

10th April 2018
Former AOT Scania (YN05 GXG) has been acquired. It is to be painted before entering service and should be numbered 74.


---
---
Nottingham buses
6th April 2016
---
---
---
Skills, Nottingham

NEWS
---
---
TM Travel


NEWS:
See Wellglade section.
---
---
---
The Wellglade group
trent barton, kinchbus, notts+derby and T M Travel.

NEWS
18th January 2018

BYD Electric Enviro 200 MCC (LJ68CYO) has been on loan to trent barton. It has been used on duplicate journeys on the H1 route over the last two days, but is not expected to see any further use here.

Volvo 712 now carries Mango livery and is based at Derby. Two more former indigo Volvos are set to join the Derby fleet soon, also in Mango livery. Swift Volvo 737 is at Langley Mill for refurbishment.

Former i4 Metrocity 99 (YJ16 DAA) is now in use with Flexibus, West Mids.

3rd December 2018

TM Travel Scania 613 now has an allover advert for Motorpoint.

Volvos are set to replace the branded Scanias on the Villager and Calverton routes very soon.

29th October 2018

701 and 702 reported to be painted yellow for Villager.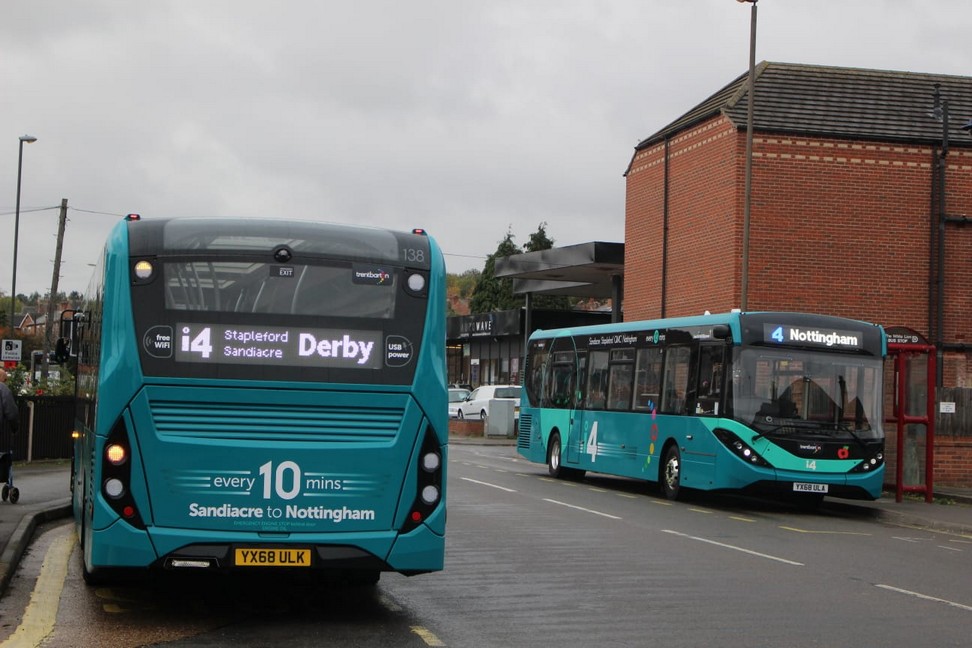 138 passes mirrorless 129.
(C) Dan Stone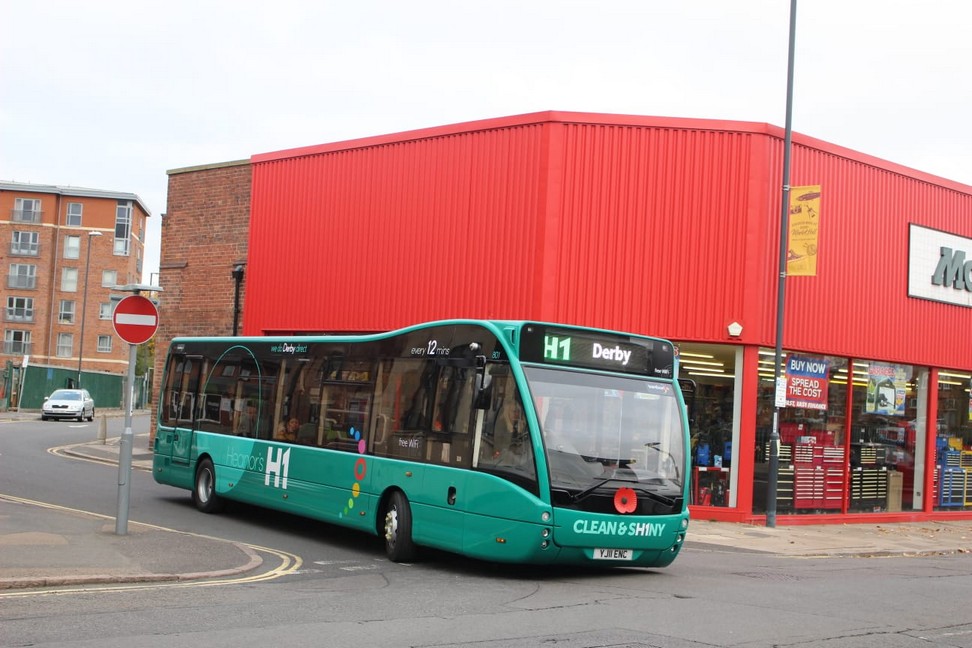 801 now carries H1 livery.
(C) Dan Stone

26th October
Versa 801 has been repainted into H1 livery, despite only being repainted red a few months ago. The service requires an extra vehicle due to an increased frequency of every 12 minutes being introduced.

The new i4 E200 MMCs are now in use. The Optare Tempo SRs have gone to Plaxtons in part exchange. The Metrocity 99 should be returning to Optare soon, but is currently stored at Langley Mill.

Former 18 Solos 495/6/7 are now based at Derby. 2 are to be used on the V3 service, which will no longer be a branded service, at least in the short term. 5 of the former indigo Volvos will be replacing the Scanias on the V1. Scanias 616 and 664 have been withdrawn following the introduction of the Solos on V3.

The Calverton Connection is now operated from Manvers Street garage in Nottingham, not Sutton. 706-711 are expected to replace the Scanias on this service soon.

3rd October
Tempos 309, 310, 311 and 317/8 have all been sold to CT4N (formerly Nottingham Community Transport). 309-11 are painted in blue and grey.

Scania 627 suffered a fire in Nottingham City Centre and is unlikely to see further service.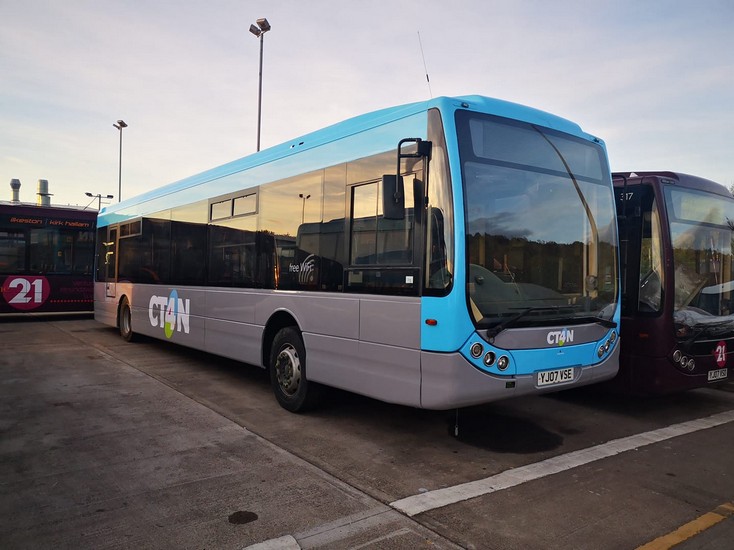 Former Trent Barton 310 is seen here in a new CT4N livery, 309/11 are expected to be painted too. Alongside 317, 318 can be seen in the background. Both have also been purchased but may not see further service.
(C) S Crossland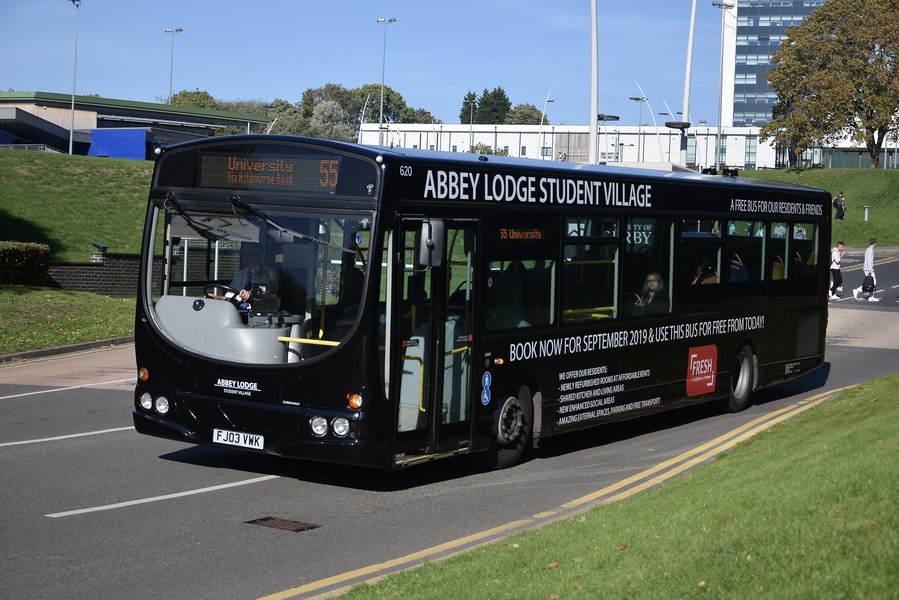 620 is seen leaving Derby University in its new livery for route 55.
(C) G Girling



30th September
I4 Enviro 200 MMCs due for delivery soon are as follows:

129 (YX68 ULA),
130 (YX68 ULB),
131 (YX68 ULC),
132 (YX68 ULD),
133 (YX68 ULE),
134 (YX68 ULF),
135 (YX68 ULG),
136 (YX68 ULH),
137 (YX68 ULJ),
138 (YX68 ULK),
No ULL, ULA instead,
139 (YX68 ULM),
140 (YX68 ULN),
141 (YX68 ULO).

Notts and Derby Scania 620 is now in an all over black livery with advertising for a new university of Derby route connecting the campus with student accomodation.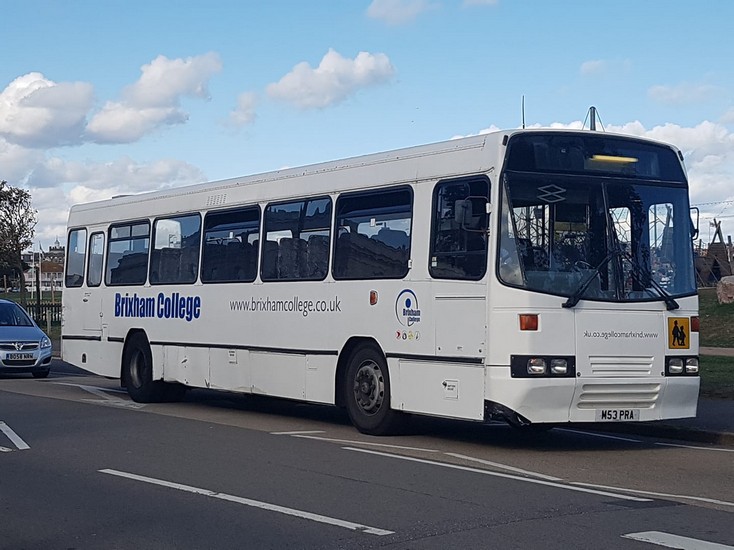 Former Transpeak Volvo 53 remains in use with Brixham College. Seen here in Paignton.
(C) C Gaskin
10th August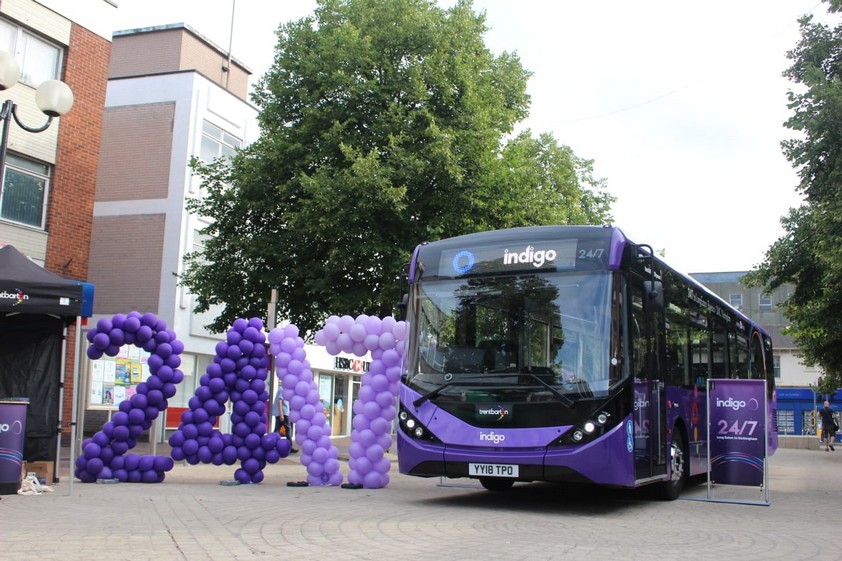 New Indigo Enviro 200 MMC number 207 is seen here promoting the route ahead of the new buses being introduced.
(C) Mr D Stone

The 15 new E200 MMCs for Indigo have arrived and should be in use later this month:

201 (YY18 TOA),
202 (YY18 TOH),
203 (YY18 TOJ),
204 (YY18 TOU),
205 (YY18 TOV),
206 (YY18 TPF),
207 (YY18 TPO),
208 (YY18 TPU),
209 (YY18 TPV),
210 (YY18 TPX),
211 (YY18 TPZ),
212 (YY18 TRV),
213 (YY18 TRX),
214 (YY18 TRZ),
215 (YY18 TSO).

Mango spare:
216 (YY18 TSU),
217 (YY18 TSV.

Former Skylink Express Irizars 72/3/6 have passed to notts+derby and have seen use on rail replacement duties.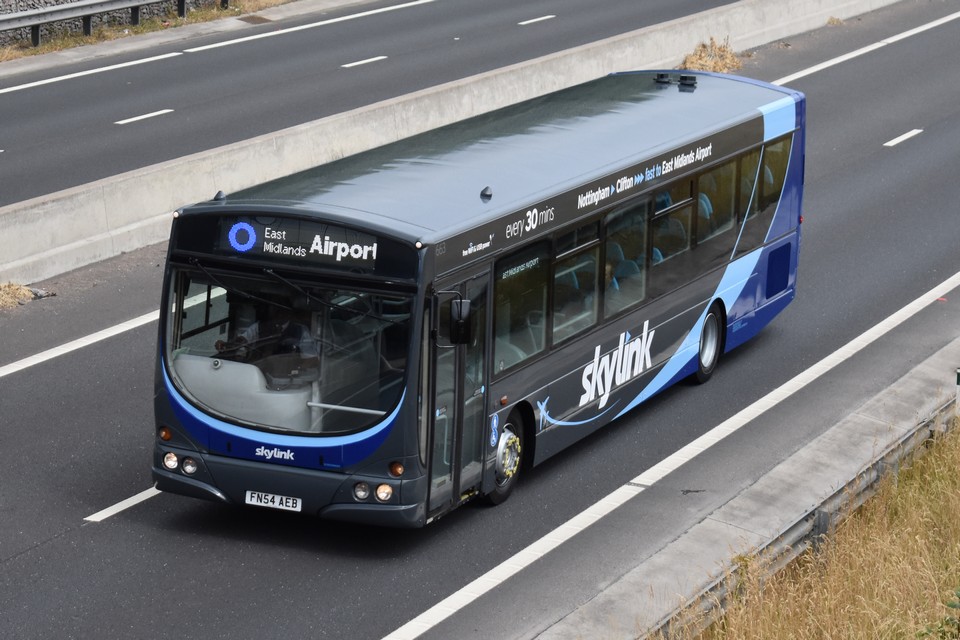 Scania 663 is seen here on the A453 heading to EMA on the Skylink Clifton service on its first day of operation.
(C) Calum Maclennan
---
---
Vallances
NEWS
-

---
Yourbus, Nottingham
NEWS
8th November 2018
1802 has been renumbered 100, and wears a special livery to mark 100 years since the end of WW1.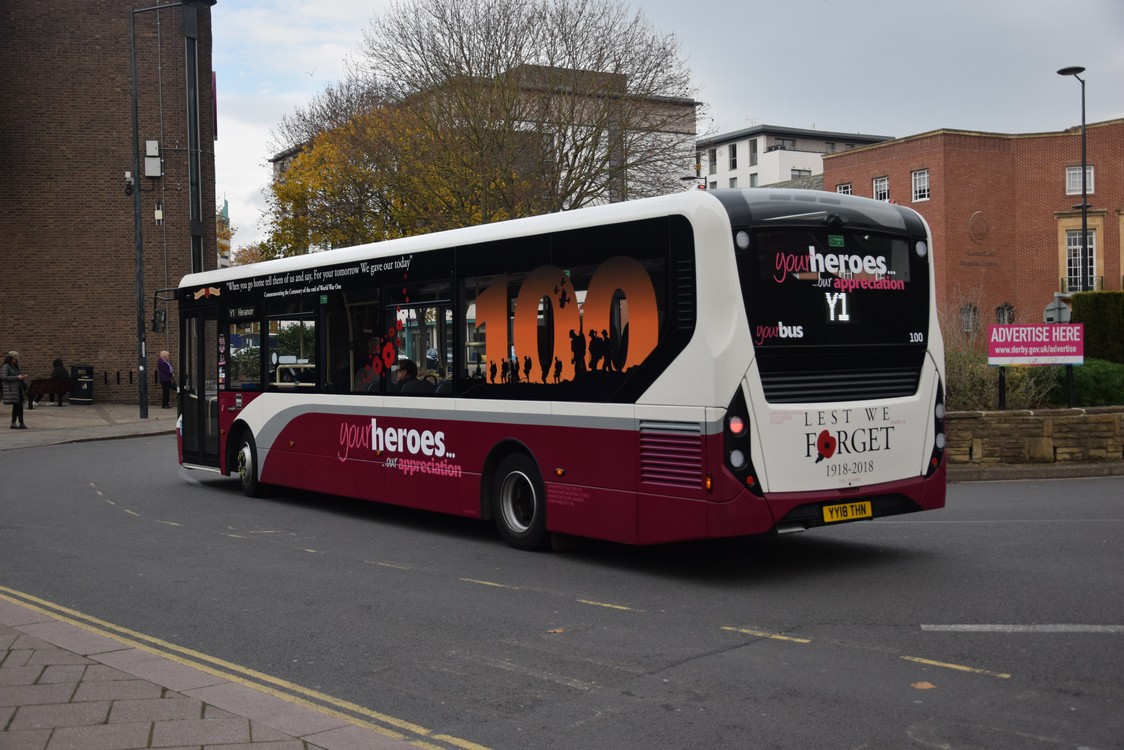 100 carries a special livery to mark 100 years since the end of WW1.
(C) G Girling



26th October 2018
A new addition to the coach fleet is brand new Mercedes Tourismo 5103 (BF68 ZFY). More may follow. Currently in all over white it is set to carry a new livery soon.
Coach 5101 is being painted.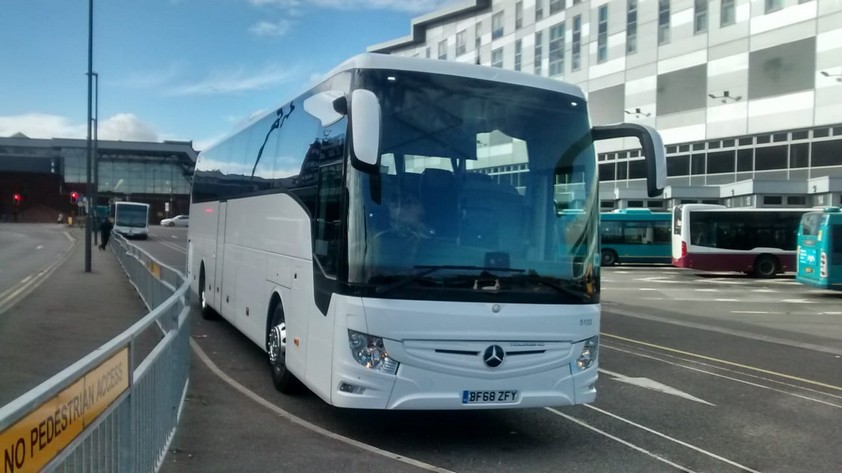 Brand new Mercedes Tourismo coach 5103 (BF68 ZFY).
(C) Adrian Healey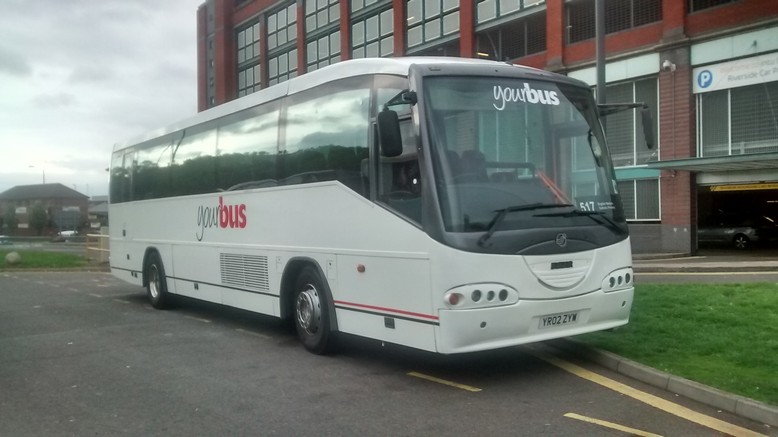 Scania Irizar coach (YR02 ZYW) has recently joined the fleet.
(C) Adrian Healey

30th September 2018
Buses magazine reports that 8 coaches are set to join the fleet for new contracts and private hire work. 2 seen in use so far are:

5101 (CC04 MAL), Scania Irizar, ex Stantons of Stoke.
5102? (YR02 ZYW). Scania Irizar.

15th September 2018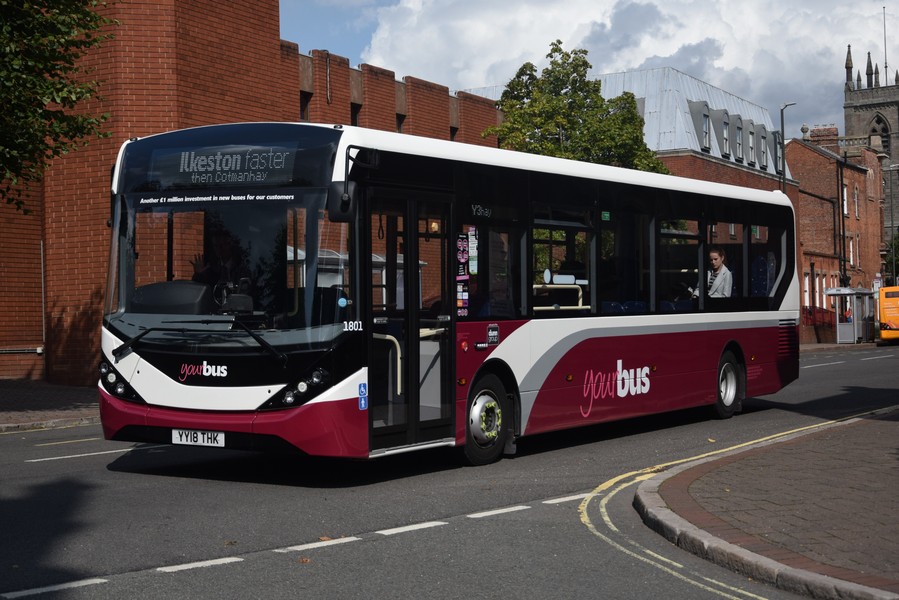 Enviro 200 MMC 1801 seen here on the Y3 in Ilkeston, displaying Ilkeston faster on the detination!
(C) Geoff Girling

6 new E200 MMCs reported here. At least one has been repainted and reported in use around Alfreton yesterday. All were delivered in plain white.

1801 (YY18 THK),
1802 (YY18 THN),
1803 (YY18 THU),
1804 (YY18 THV),
1805 (YY18 THX),
1806 (YY18 THZ).

10th June 2018
Three new E200 MMCs have arrived here as (YY18 THN/U/V). All are plain white but are expected to be painted before they enter service. More may also be on the way.
---
---
Last Months News

News Index Page
---